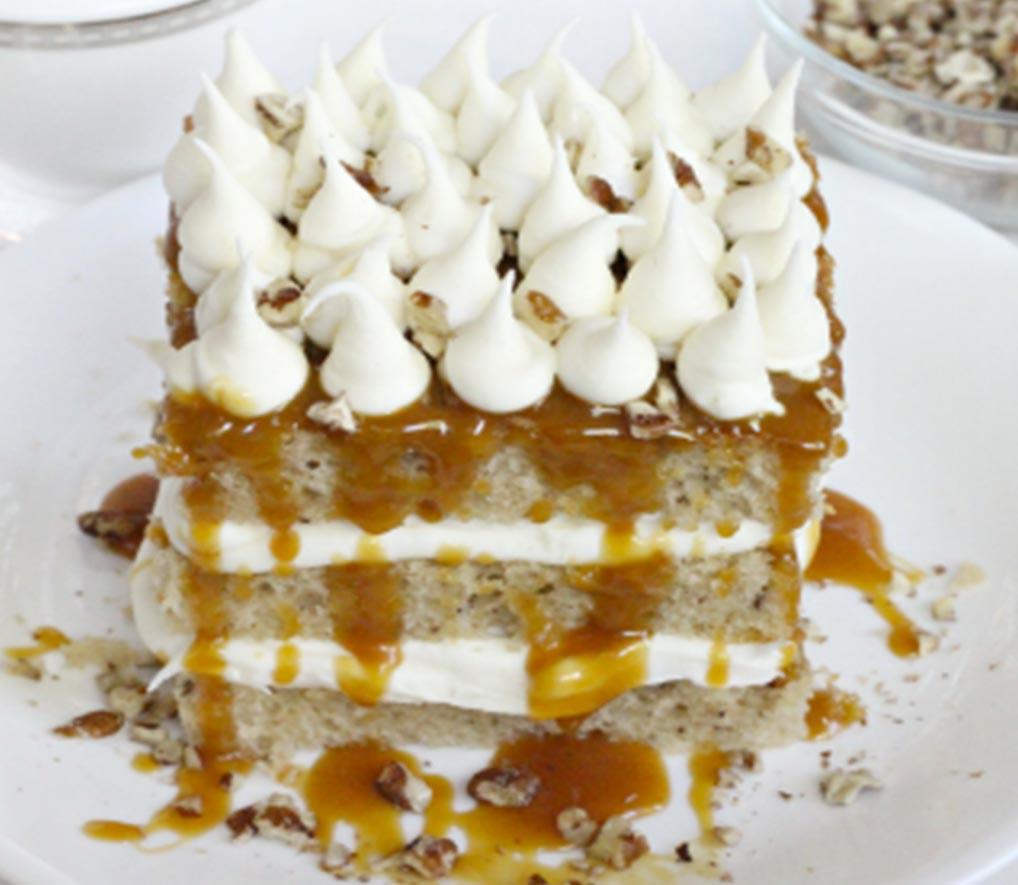 Ingredients
Cake
2 cups cake flour
1 tablespoon baking powder
1 teaspoon salt
2 cups sugar
1 cup unsalted butter, softened
2 eggs, separated
1 tablespoon vanilla extract
1 cup Creamland Dairy milk
1 cup chopped pecans
½ cup Creamland Dairy heavy whipping cream
1 (14-ounce) can sweetened condensed milk
Frosting
¼ cup unsalted butter, softened
4 ounces cream cheese, softened
2 cups powdered sugar
1 teaspoon vanilla extract
Caramel Topping
1 cup sugar
¼ cup water
¾ cup Creamland Dairy heavy whipping cream
3 ½ tablespoons unsalted butter
1 teaspoon gray sea salt, crushed or kosher salt
How to
Heat oven to 325°F. Grease and flour 9-inch square pan; set aside.
To make cake, in medium bowl stir together flour, baking powder and salt; set aside.
In large mixer bowl combine sugar and butter; beat on medium speed, scraping bowl often, until creamed (1 to 2 minutes). Add egg yolks and vanilla. Continue beating until well mixed. Add flour mixture alternately with milk, beating at low speed after each addition, until fluffy (do not overmix); set aside.
In small mixer bowl with whip attachment beat egg whites until soft peaks form. Gently fold egg whites into cake batter. Add pecans; stir just until incorporated. Pour batter into prepared pan. Bake for 30 to 35 minutes or until toothpick inserted into center comes out clean. Cool 10 minutes; remove from pan to cooling rack. Cool completely.
In small bowl stir together whipping cream and sweetened condensed milk. Gently place cooled cake in larger pan with sides. Pour whipping cream mixture over cake; let stand 10 minutes to absorb liquid.
Meanwhile, to make frosting, in large mixer bowl combine butter and cream cheese; beat on medium speed until creamy. Reduce speed to low; gradually add powdered sugar, beating after each addition and scraping bowl often, until smooth and creamy. Add vanilla; beat until well mixed. Slice cake horizontally into three equal layers. Place one layer on serving plate; frost top with 1/3 frosting. Place second layer on top; frost top with 1/3 frosting. Place third layer on top; frost top with remaining frosting or reserve remaining frosting to garnish after drizzling with caramel topping.
To make caramel topping, in 1 ½-quart saucepan combine sugar and water. Cook over medium low heat until sugar dissolves. Increase heat to high; bring mixture to a boil, do not stir. Boil for 5 to 6 minutes or until deep amber color. Remove from heat; whisk in whipping cream (mixture will bubble). Stir in butter and salt. Pour caramel topping into serving dish.
To serve cake, cut into pieces and serve drizzled with warm caramel topping. If reserved frosting, garnish with frosting. Store cake and caramel topping refrigerated; warm caramel topping for serving.

Other Recipes You Might Like